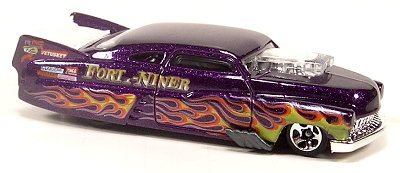 Very nice casting with see-thru hood scoop and fold-out wheelie bars. Huge chrome wing looks great as does the dual carb engine visible through the scoop. Now available in metallic maroon but I don't care for the translucent red windows/hood scoop or gold plating. This metallic purple with flames paint scheme reminds me of the ever popular Purple Passion.
Hot Wheels Purple Passion
If you enjoy building plastic model kits there is the
Revell 1:25 '49 Mercury Custom Coupe
Mercury Blues
is a great song.
Vavoom!